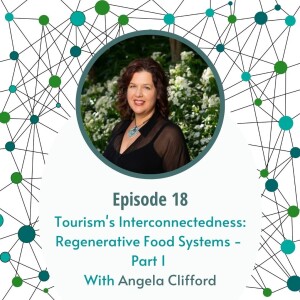 Wednesday Nov 23, 2022
Tourism's Interconnectedness: Regenerative Food Systems - Part One with Angela Clifford
As we continue to explore tourism's purpose in a VUCA world, and how tourism can add value and capability to other systems, this is the first of 3 episodes exploring how tourism can support regenerative food systems, local food resiliency, and help shape local food stories. We interview guests who are in both the food and tourism sectors, who think about systems level impact, and who exemplify the potential tourism has to interact with and add value to food systems in particular. 
Angela Clifford is the CEO of Eat NZ, an Aotearoa food collective which spans all aspects of our food system. Angela is a passionate advocate for food as a way to deepen our connections to people and to places, to understand other cultures, and to find our way back to food stories that heal us and the planet. Angela co-owns The Food Farm, a regenerative permaculture property, and has deep wisdom about living systems and regeneration. Angela provides tangible examples for how tourism can help guests discover culture through food and build and strengthen networks between food producers, growers, and hospitality businesses to support community resilience. 

Our multi-day regenerative tourism experience, GOOD Awaits Aotearoa New Zealand, visits Angela on The Food Farm. This is a unique opportunity to spend time with this inspiring woman who is working at a systems level to create change.  Learn more about this trip here.
Join our LinkedIn network of likeminded professionals exploring what a regenerative future for tourism can look like. We'd love to see you there and hear your thoughts on this episode.
Get in touch with Angela: 
LinkedIn: Angela Clifford
Show notes and links
Want to explore what regenerative tourism looks like in practice? Join our GOOD Awaits multi-day Aotearoa New Zealand Experience in March 2023
https://www.good-travel.org/good-trips/good-awaits-new-zealand 
Credits:
GOOD Awaits is hosted by Debbie Clarke and Josie Major. Audio production and music is by Clarrie Macklin.
Contact us: 
Josie Major - josie@good-travel.org
Debbie Clarke - debbie@good-travel.org
Special Thanks to NZ National Commission for UNESCO for supporting this 2nd season of our podcast.